Phone: 1-772-589-8014

With over 30 years experience in small business accounting, The Tax Lady has been providing us with assistance with our tax preparation needs for years. We couldn't be happier. Call her today and simplify your life.

It is with much sadness that we inform you Barbara Malek, "The TAX LADY", passed away February 14, 2016. As with all friends and acquaintances that have left this world seemingly too soon,
she will be missed by all of us that knew her.

Death leaves a heartache no one can heal;
Love leaves a memory no one can steal.
Until we meet again, may God Hold you
in the palm of His hand.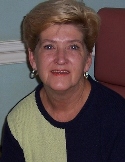 BARBARA A. MALEK
August 4, 1946 - February 14, 2016


Vero Beach, Fl

On February 14th, 2016 God handpicked a beautiful angel, Barbara A Malek, 69 to join him in heaven. She was surrounded by loving family and friends.

Barbara was born in Bethlehem, PA., August 4th, 1946 to parents William Dochez and Wanda C. Adamek Donchez. She graduated from Liberty High School in Bethlehem, PA. Barbara was married to John M. Malek for 30 years, and resided in Allentown, PA. She was the Vice President of Cars, Inc., and the Notary Public. Barbara was on the board at Swain School were her son attended. She was also a faithful, dedicated mother to her children.

Barbara moved to Vero Beach in the summer of 1990. She was a CPA for many years. Her heart was dedicated to God, her family, friends, and supporting the Saint Edward's School that her son graduated from and her grandchildren now attend. She was there for her son as he coached, and was a cheerleader for her grandkids as they played. Barbara had a huge heart. She was so caring, loving and wanted to help in any way she could. She blessed so many people with her infectious smile and her big sense of humor. Barbara was a one of a kind mama and nana. She will be deeply missed, but forever in our hearts.

She is survived by her #1 Fan (21) her son, Scott C Malek, his wife Sarah and their daughters, Kyrstin, Gianna, and Zoie, her daughter Christine and children, Ashley, Nathan, Joe Jr., his wife Jenny and their daughter Bella. Son In-Law, Joe Francis Sr. Her brother William Dochez of PA.

She is preceded in death by her parents, William Donchez and Wanda Donchez, her beloved son Craig M. Malek, sister Mary Ann and Brother Michael Donchez.

A celebration service of her life will be March 13th, 2016 at 3:00 p.m. at New Hope Ministries located at 4425 71st Street Vero Beach, Fl 32967

In lieu of flowers a memorial fund for expenses has be set up in memory of

Barbara A. Malek

FREEDOM CENTER OF VERO BEACH

2710 AIRPORT DRIVE

VERO BEACH, FL 32960